Penn Herb Wellness Guide
Angina
Also indexed as:Breast Pain, Stenocardia
Ease the pain in your chest by paying closer attention to your coronary arteries. According to research or other evidence, the following self-care steps may be helpful.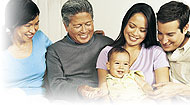 About This Condition
Angina, or angina pectoris, is chest pain due either to reduced blood flow to the heart or to certain other abnormalities of heart function.
Hardening (atherosclerosis) of the coronary arteries that feed the heart is usually the underlying problem. Spasms of the coronary arteries may also cause angina.
There are three main types of angina. The first is called stable angina. This type of chest pain comes on during exercise and is both common and predictable. Stable angina is most often associated with atherosclerosis. A second type, called variant angina, can occur at rest or during exercise. This type is primarily due to sudden coronary artery spasm, though atherosclerosis may also be a component. The third, most severe type is called unstable angina. This angina occurs with no predictability and can quickly lead to a heart attack. Anyone with significant, new chest pain or a worsening of previously mild angina must seek medical care immediately.
It is important for treatment and prevention of angina (and for overall health) to learn more about atherosclerosis
Symptoms
Common symptoms of angina include a squeezing pressure, heaviness, ache, or burning pain (like indigestion) in the chest that occur for 5 to 30 minutes at a time. These sensations are usually felt behind the breastbone but may also be felt in the jaw, neck, arms, back, or upper abdomen. Some people may also have difficulty in breathing or may become pale and sweaty. Symptoms of angina usually appear during physical exertion, after heavy meals, and with heightened emotional states, such as anger, frustration, shock, and excitement.
Healthy Lifestyle Tips
Cigarette smoking causes damage to the coronary arteries and, in this way, can contribute to angina. It is critical for anyone with angina who smokes to stop smoking. Smoking has also been shown to reduce the effectiveness of treatments for angina.1 Secondhand smoke should be avoided as well.2
Increasing physical exercise has been clearly demonstrated to reduce symptoms of angina, as well as to relieve its underlying causes. One study found that intense exercise for ten minutes daily was as effective as beta-blocker drugs in a group of patients with angina.3 Anyone with angina or any other heart condition, as well as anyone over the age of 40, should consult a doctor before beginning an exercise program.
Holistic Options
People suffering from angina may find acupuncture to reduce symptoms, the need for medication, and even the need for invasive surgery. While some studies of acupuncture treatment for angina found no benefit,4 others have demonstrated positive results. An uncontrolled trial of 49 angina patients found that acupuncture resulted in 58% less nitroglycerin use and a 38% decrease in the number of angina attacks.5 In another study, 69 patients suffering with severe angina were treated with a combination of acupuncture, shiatsu (acupressure), and lifestyle changes. The results were compared to patients with severe angina treated with coronary artery bypass grafting (CABG). The incidence of heart attack and death was 21% among those treated with CABG and 7% among those treated with the combined therapy including acupuncture. In addition, 61% of those treated with the combination therapy, because of their improved health, postponed any further invasive treatment.6 In a single-blind study of 26 patients, a reduction in angina attack rate and nitroglycerin use, as well as an improvement in exercise performance, occurred in the treatment group compared to a sham (fake) acupuncture group.7 Findings from a controlled trial comparing acupuncture treatment (three treatments per week for four weeks) to placebo tablets support these results, demonstrating a reduction in the number of angina attacks, improved exercise performance, and corresponding improvements in ECG readings.8
Transcendental meditation (20 minutes twice daily of silently chanting a mantra with eyes closed) was found in a small controlled trial to reduce angina-like chest pain and to normalize electrocardiograms (ECGs) in patients with cardiac syndrome X, a form of angina in people with otherwise normal coronary arteries.9 While these patients did not have angina in the classic sense, their chest pain was thought to result from anxiety, which may reduce blood flow to the heart, and their ECGs resembled those of classic angina patients. It is not yet known whether transcendental meditation would have the same effect on patients with angina pectoris.
Evidence from preliminary10, 11, 12 and controlled13 studies suggests that there may be a relationship between the presence of heart disease and changes to the muscles and joints of the spine that are detectable by practitioners of spinal manipulation. In a double-blind study, patients with proven coronary disease were more likely to have specific changes in their spine detectable by palpating or "feeling" their backs than were subjects who were healthy.14 Controlled studies have demonstrated that manipulation of the joints in the middle of the neck can increase heart rate, respiratory rate, and blood pressure,15, 16 but manipulation of the lower neck does not appear to have the same effect.17 Despite these intriguing findings, there is no research investigating whether manipulation reduces angina symptoms or otherwise benefits the heart and cardiovascular system.
Copyright 2021 TraceGains, Inc. All rights reserved.
Learn more about TraceGains, the company.
The information presented by TraceGains is for informational purposes only. It is based on scientific studies (human, animal, or in vitro), clinical experience, or traditional usage as cited in each article. The results reported may not necessarily occur in all individuals. Self-treatment is not recommended for life-threatening conditions that require medical treatment under a doctor's care. For many of the conditions discussed, treatment with prescription or over the counter medication is also available. Consult your doctor, practitioner, and/or pharmacist for any health problem and before using any supplements or before making any changes in prescribed medications. Information expires December 2021.