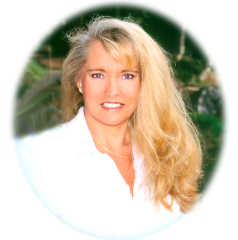 Dr. Susan's 5 Steps To A Fresh, Clean Start
Whether you're embarking on an annual fresh start health regimen, or a quarterly change-of-season detox program or, perhaps a one-day-a-week energy and vitality booster, here are 5 simple tips to give you the very best results. It's not difficult to look and feel years younger than your age. It is simply a matter of choice.
1. Plant-Based Food & Fresh Juices: While on a cleanse, adopt a plant-based diet with as many raw or "living" foods as possible. Emphasize any leafy greens because greens are very detoxifying and rejuvenating.
2. Water: Drink at least 8 glasses of purified water daily, in-between meals. When your body is fully hydrated, you can more easily flush toxins out of your system.
3. Exercise: It's important to workout during a cleanse. If you're feeling tired, do some yoga stretches or other simple movements. Make sure to include aerobic activity such as walking to help with your circulation.
4. Hot Baths & Sauna: A hot bath or sauna is also an excellent way to facilitate the removal of toxins through the skin.
5. Neti Nasal Cleansing: Why cleanse your body and ignore your nasal passages? Many people in America practice Neti cleansing on a daily basis to keep their sinuses clean and improve their ability to breathe freely.
Here's a Super Smoothie Recipe to Help You to Detox & Rejuvenate Your Miraculous Body
---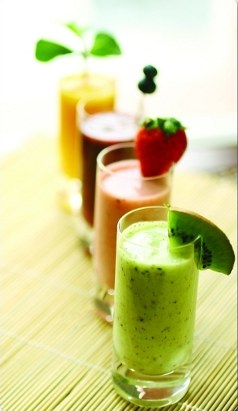 Dried Plum & Apple Green Smoothie
(Serves 1-2)
This is a healthy and refreshing mid-morning or afternoon pick-me-up guaranteed to keep you in the flow this month and throughout the year and to help you detoxify and rejuvenate your miraculous body.
1 cup vanilla yogurt (dairy or nondairy if you are a vegan)
8 dried plums, pitted
4 leaves of romaine lettuce
1 kiwi, peeled
1/2 banana (fresh or frozen)
1/2 cup frozen apple-juice concentrate (you can also find it bottled and unfrozen)
1/4 lemon, peeled (leave pithy part on)
1/8 tsp. ground cinnamon
3 leaves fresh mint
5-6 ice cubes
Blend until smooth and serve.
Dried Plums (Prunes) -- A natural laxative, dried plums are a good source of calcium, phosphorus, potassium, beta-carotene, and iron. They help lower cholesterol and are beneficial for the blood, brain, and nerves.
This smoothie will help keep your digestive system in the pink this month and throughout the year. With a burst of flavors melding together, each glassful is detoxifying, rejuvenating, alkalizing, and energizing. You can also vary the taste each time you make it by adding in other fruits (fresh or frozen) and leafy greens (like baby leaf spinach or kale) that you have on hand. Whenever possible, choose organic produce, too.

This recipe is an excerpt from my full-color recipe and healthy living book titled Recipes for Health Bliss: Using NatureFoods & Lifestyle Choices to Rejuvenate Your Body & Life.
Click here to see Dr. Susan's Detox and Rejuvenate Package
BIO: For more than three decades, Susan Smith Jones, Ph.D., has been one of the world's most recognizable names and faces in the fields of holistic health and balanced living. She taught students, staff, and faculty at UCLA how to be healthy and fit for 30 years, and is the author of 20 books, including her "raw lifestyle" book Be Healthy~Stay Balanced and her new 3-book series The Healing Power of NatureFoods, Be Healthy~Stay Balanced and Health Bliss.
To order Dr. Susan's books or her audio programs, Click HERE