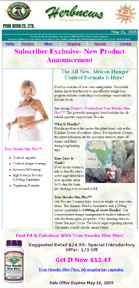 HerbNews - Our FREE weekly Email Newsletter!
Join our mailing list for the weekly Ezine Herbnews. You'll receive the latest information and specials on herbs and natural remedies, plus exclusive new product announcements! Be the first to know about breaking developments on the latest natural remedies!
NOTE: Your private information is kept completely confidential. We will NOT disclose your email address to anyone. And, you may unsubscribe whenever you want by following the instructions in every issue.