Penn Herb Wellness Guide
Also indexed as:Intestinal Flora, Bifidobacterium bifidum, Bifidobacterium longum, Lactobacillus, Lactobacillus casei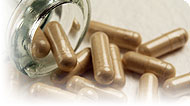 Probiotic bacteria favorably alter the intestinal microflora balance, inhibit the growth of harmful bacteria, promote good digestion, boost immune function, and increase resistance to infection.1, 2 People with flourishing intestinal colonies of beneficial bacteria are better equipped to fight the growth of disease-causing bacteria.3, 4Lactobacilli and bifidobacteria maintain a healthy balance of intestinal flora by producing organic compounds—such as lactic acid, hydrogen peroxide, and acetic acid—that increase the acidity of the intestine and inhibit the reproduction of many harmful bacteria.5, 6 Probiotic bacteria also produce substances called bacteriocins, which act as natural antibiotics to kill undesirable microorganisms.7
Reliable and relatively consistent scientific data showing a substantial health benefit.
Contradictory, insufficient, or preliminary studies suggesting a health benefit or minimal health benefit.
For an herb, supported by traditional use but minimal or no scientific evidence. For a supplement,little scientific support.
Our proprietary "Star-Rating" system was developed to help you easily understand the amount of scientific support behind each supplement in relation to a specific health condition. While there is no way to predict whether a vitamin, mineral, or herb will successfully treat or prevent associated health conditions, our unique ratings tell you how well these supplements are understood by the medical community, and whether studies have found them to be effective for other people.
For over a decade, our team has combed through thousands of research articles published in reputable journals. To help you make educated decisions, and to better understand controversial or confusing supplements, our medical experts have digested the science into these three easy-to-follow ratings. We hope this provides you with a helpful resource to make informed decisions towards your health and well-being.
This supplement has been used in connection with the following health conditions:
Used for
Amount
Why

Colic

Consult a qualified healthcare practitioner

[3 stars]

Research suggestsprobioticsmay benefit babies with colic who are breast-fed or fed milk-based formula.

Constipation

Amount depends on the probiotic strain used

[3 stars]

Research has shown that the probiotic strain Lactobacillus casei Shirota may help relieve chronic constipation after two weeks of supplementation.

Irritable Bowel Syndrome

Refer to label instructions

[3 stars]

A daily drink containing probiotics significantly reduced IBS symptoms in one study.

Obesity

Up to 9x109 (nine billion) colony forming units daily

[3 stars]

A growing body of research shows probiotics can increase weight loss in those with overweight and obesity.

Tooth Decay

Add 5 to 10 x 105 CFU per ml to milk or formula

[3 stars]

Supplementing with probiotics may inhibit cavity-causing bacteria.

Type 2 Diabetes

7 billion CFU or more of a mix of probiotic strains daily

[3 stars]

Probiotics can improve blood glucose control, as well as cholesterol and triglyceride levels, in people with type 2 diabetes.

Vaginitis

Apply a daily topical preparation or a suppository containing live culture

as Lactobacillus acidophilus Vaginal Application

[3 stars]

A topical preparation or suppository containing live Lactobacillus acidophilus may help relieve symptoms and prevent recurrent infections.

Yeast Infection

3 capsules or 1/4 tsp powder, taken by mouth three times daily, or use powder in douche or vaginal suppositories daily

as Lactobacillus acidophilus

[3 stars]

Supplementing with probiotics may prevent the overgrowth of yeast organisms.

Allergies and Sensitivities and Food Allergies

2.6 billion organisms per day for infants

[2 stars]

Probiotics such as Lactobacillus GG may improve digestion in people with food allergies, helping the intestinal tract control allergen absorption and changing immune system responses to foods.

Canker Sores

Apply powdered culture topically several times daily and orally take 1.5 billion colony-forming units two times daily

[2 stars]

Topical and/or oral use of Lactobacillus acidophilus and Lactobacillus bulgaricus may help people with recurrent canker sores.

Common Cold
(Lactobacillus acidophilus and Bifidobacterium animalis subsp lactis Bi-07 )

Atotal of 1,010 colony-forming units per day for the combination

[2 stars]

In a double-blind study conducted in China, children who received probiotics for six months had a significantly lower incidence of cold symptoms compared with children who received a placebo.

Common Cold and Sore Throat

Refer to label instructions

[2 stars]

Daily supplementation with a probiotic may decrease the incidence of upper respiratory tract infections in children.

Crohn's Disease

At least 250 mg of Saccharomyces boulardii taken three times per day

[2 stars]

In double-blind research, diarrhea caused by Crohn's disease has partially responded to supplementation with the probiotic Saccharomyces boulardii.

Diverticular Disease

Refer to label instructions

[2 stars]

In a double-blind study of patients with diverticular disease in remission, supplementing with a probiotic significantly decreased the number of people who suffered a recurrence of symptoms or a flare-up of acute diverticulitis.

Eczema

10 billion colony-forming units daily of lactobacillus-type bacteria

[2 stars]

Pregnant women and newborns who take probiotic supplements may reduce risk of eczema in early life.

Gingivitis

Refer to label instructions

[2 stars]

In two double-blind studies, the use of probiotic lozenges resulted in a modest improvement in certain measures of periodontal disease.

Halitosis

Refer to label instructions

[2 stars]

Preparations and gums containing probiotics have shown some promise for improving halitosis.

Hay Fever

Refer to label instructions

[2 stars]

In one trial, supplementing with Bifidobacterium longum strain BB536 during the pollen season significantly decreased symptoms such as sneezing, runny nose, nasal blockage.

HIV and AIDS Support

Take under medical supervision: 1 gram three times per day of Saccharomyces boulardii for diarrhea

as Saccharomyces boulardii

[2 stars]

In one trial, Saccharomyces boulardii helped stop diarrhea in HIV-positive people.

Immune Function

10 billion colony-forming units a day of acidophilus or bifidobacteria-only for intestinal infections

[2 stars]

Probiotics help stimulate the intestine's immune system and slow the growth of infectious organisms.

Infection

Consult a qualified healthcare practitioner

[2 stars]

Lactobacillus acidophilus produces acids that kill invading bacteria. These and other probiotics inhibit the growth of potentially infectious organisms and have been shown to be effective against some infections.

Liver Cirrhosis

Refer to label instructions

[2 stars]

A probiotic preparation called VSL#3, which contains 8 different strains of beneficial bacteria, has been shown to improve the impaired mental and neurological function that is commonly seen in people with cirrhosis.

Metabolic Syndrome

= 6.5 billion colony forming units (CFUs) daily

[2 stars]

Early research indicates probiotics have likely, though small, benefits on metabolic and cardiovascular health.

Pre- and Post-Surgery Health

Refer to label instructions

[2 stars]

One meta-analysis found that the use of a probiotic or synbiotic (probiotic plus prebiotic) product around the time of surgery significantly decreased the incidence of severe infections following elective surgery.

Ulcerative Colitis

10 to 600 billion colony-forming units per day of probiotic bacteria, or 250 mg of Saccharomyces boulardii three times daily

[2 stars]

Supplementing with probiotics has been shown to help people with ulcerative colitis.