Penn Herb Wellness Guide
Creating Flavonoid-Rich Chai at Home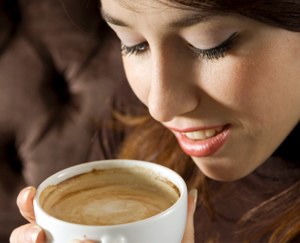 Flavonoids help protect the body against Alzheimer's disease, cancer, and heart disease
Black tea leaves contain a wallop of antioxidants, called flavonoids, that help protect the body against Alzheimer's disease, cancer, and heart disease. Research has shown that tea—whether black, green, white, or oolong—is teeming with flavonoids to rival those found in fruits and vegetables. And chai—a strong brew of black tea blended with a mixture of spices, milk, and sugar—may be even more nutritious than traditional black tea: the spices provide different kinds of disease-fighting antioxidants that work in harmony with the tea flavonoids.
What's more, the milk that gives chai its creamy flavor provides calcium and vitamin D, which are important for bones. If you needed another reason to make chai at home, one study found that people who drank black tea had lower levels of the stress hormone cortisol and were able to "de-stress" faster than those who drank a tea substitute.
DIY chai
It's easier than ever to make chai at home. Dry mixes, similar to instant coffee, require you to just blend with warm milk for a quick brew. Steam the milk in an espresso machine to make yourself a chai latte. To make traditional chai, here's a simple recipe:
1 1/2 cups (355 ml) of water
1 1/2 inch (3.8 cm) stick of cinnamon
8 cardamom pods
1 teaspoon (2 grams) grated fresh ginger root
2/3 cup (160 ml) of milk
3 teaspoons (6 grams) black tea leaves (Assam or Darjeeling)
Honey or sugar to sweeten (optional)
Place water, cinnamon, cardamom, cloves and ginger in a pot and bring to a boil.
Cover and lower heat to low setting; simmer for 10 minutes.
Add milk and black tea leaves and again bring to a simmer for 10 minutes.
Strain through a sieve.
Add honey or sugar to sweeten.
For less caffeine, try making chai from white tea leaves, which are the least processed and contain the highest amount of antioxidants. If you prefer no caffeine, try a slightly more pungent red chai made from red tea leaves.
Copyright 2021 TraceGains, Inc. All rights reserved.