Penn Herb Wellness Guide
Also indexed as:1,25-dihydroxyvitamin D, D Vitamin, Calciferol (Vitamin D), Calcipotriol (Vitamin D)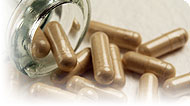 The fat-soluble vitamin D's most important role is maintaining blood levels of calcium, which it accomplishes by increasing absorption of calcium from food and reducing urinary calcium loss. Both effects keep calcium in the body and therefore spare the calcium that is stored in bones. When necessary, vitamin D transfers calcium from the bone into the bloodstream, which does not benefit bones. Although the overall effect of vitamin D on the bones is complicated, some vitamin D is necessary for healthy bones and teeth.
When "D" is used without a subscript it refers to either D2 or D3, the two primary forms used as supplements.
Reliable and relatively consistent scientific data showing a substantial health benefit.
Contradictory, insufficient, or preliminary studies suggesting a health benefit or minimal health benefit.
For an herb, supported by traditional use but minimal or no scientific evidence. For a supplement,little scientific support.
Our proprietary "Star-Rating" system was developed to help you easily understand the amount of scientific support behind each supplement in relation to a specific health condition. While there is no way to predict whether a vitamin, mineral, or herb will successfully treat or prevent associated health conditions, our unique ratings tell you how well these supplements are understood by the medical community, and whether studies have found them to be effective for other people.
For over a decade, our team has combed through thousands of research articles published in reputable journals. To help you make educated decisions, and to better understand controversial or confusing supplements, our medical experts have digested the science into these three easy-to-follow ratings. We hope this provides you with a helpful resource to make informed decisions towards your health and well-being.
This supplement has been used in connection with the following health conditions:
Used for
Amount
Why

Crohn's Disease

1,000 to 1,200 IU daily under medical supervision

[3 stars]

Vitamin D malabsorption is common in Crohn's and can lead to a deficiency of the vitamin. Supplementation can help prevent bone loss in cases of deficiency.

Cystic Fibrosis

1,000 to 2,000 IU daily

[3 stars]

The fat malabsorption associated with cystic fibrosis often leads to a deficiency of fat-soluble vitamins, such as vitamin D. Supplementation can help counteract the deficiency.

Neuropathy

7,100 IU daily or 50,000 IU weekly of vitamin D3 for eight to twelve weeks, followed by 2,000 to 4,000 IU daily long term

[3 stars]

Supplementing with vitamin D3 daily or weekly can help reduce symptoms of diabetic neuropathy.

Obesity

2,000–7,000 IU per day

[3 stars]

Vitamin D insufficiency and deficiency are common in people with overweight and obesity; restoring sufficient levels with vitamin D supplements is likely to improve the response to weight loss efforts.

Osteoporosis

400 to 800IU daily depending on age, sun exposure, and dietary sources

[3 stars]

Vitamin D increases calcium absorption and helps make bones stronger. Vitamin D supplementation has reduced bone loss in women who don't get enough of the vitamin from food and slowed bone loss in people with osteoporosis and in postmenopausal women. It also works with calcium to prevent some musculoskeletal causes of falls and subsequent fractures.

Rickets

Consult a qualified healthcare practitioner

[3 stars]

Vitamin D supplements may be helpful in preventing and treating rickets.

Type 1 Diabetes

Many doctors recommend a dose of 2,000 to 4,000 IU vitamin D daily, especially in the winter months

[3 stars]

Vitamin D is needed to support healthy immune and pancreatic function. Supplementing with vitamin D may improve blood sugar control in those with type 1 diabetes, especially in those with low vitamin D levels.

Asthma

1,200 IU per day for 15 to 17 weeks

[2 stars]

One study found that daily supplementation with vitamin D during the winter months significantly reduced the amount of times the children experienced asthma attacks.

Autism

Refer to label instructions

[2 stars]

In a preliminary study and a follow-up double-blind study of autistic children, daily supplementation with vitamin D was associated with improvements in various symptoms of autism.

Burns

200 to 600 IU day in cases of extensive burns

[2 stars]

People with a history of an extensive burn might benefit from vitamin D supplementation, since the skin may not be as effective at manufacturing vitamin D from sunlight.

Celiac Disease

Consult a qualified healthcare practitioner

[2 stars]

Malabsorption-induced vitamin D deficiency can lead to bone weakening in people with celiac disease. Supplementing with vitamin D may help increase bone density.

Common Cold and Sore Throat

300 IU per day for three months in winter

[2 stars]

Research suggests that supplementing with vitamin D may prevent upper respiratory tract infections in people who are deficient in the vitamin, but not in those who have normal vitamin D status.

Congestive Heart Failure

Refer to label instructions

[2 stars]

In preliminary research, the prevalence of vitamin D deficiency was significantly higher in patients with congestive heart failure than in patients without it.

Depression

400 to 800 IU daily

[2 stars]

Some studies have shown that supplementing with vitamin D leads to improved mood.

Eczema

Refer to label instructions

[2 stars]

In one preliminary trial, eczema significantly improved in people who had very low blood levels of vitamin D after supplementing with vitamin D.

Epilepsy

Refer to label instructions

[2 stars]

In a preliminary study, correcting vitamin D deficiency resulted in a decrease in the number of seizures in patients with epilepsy who had failed to respond adequately to medications.

Fibromyalgia

Refer to label instructions

[2 stars]

In a double-blind study of women with fibromyalgia who had low or moderately low blood levels of vitamin D, supplementing with vitamin D improved pain, compared with a placebo.

Hypertension

800 to 2,000 IU daily, ideally based on blood levels; up to 7,000 IU per day temporarily to reverse deficiency

[2 stars]

Vitamin D may reduce blood pressure in hypertensive people with vitamin D deficiency.

Influenza

800 IU per day for two years; then 2,000 IU per day after that

[2 stars]

In one study, long-term vitamin D supplementation for three years significantlyreducedflu and coldsymptoms.

Influenza and Children

1,200 IU per day for 15 to 17 weeks

[2 stars]

A study of Japanese children found that daily supplementation with vitamin D during the winter months significantly reduced the amount of times the children developed the flu.

Low Back Pain

Refer to label instructions

[2 stars]

In people with muscle pain associated with vitamin D deficiency, supplementing with the vitamin may improve pain.

Lupus

Refer to label instructions

[2 stars]

In a double-blind trial, people who took vitamin D daily experienced a decrease in disease activity and flare-ups.

Metabolic Syndrome

3 to 4,000 IU of vitamin D3 daily

[2 stars]

Vitamin D deficiency increases the risk of metabolic disorders.

Seasonal Affective Disorder

Refer to label instructions

[2 stars]

Supplementing with vitamin D may improve SAD in people with low levels of the vitamin.

Tension Headache
(Calcium)

1,000 to 1,500 mg per day (plus the same amount of calcium)

[2 stars]

In preliminary research, people with chronic tension-type headaches who were also suffering from severe vitamin D deficiency experienced an improvement in their symptoms after supplementing with vitamin D and calcium.

Type 2 Diabetes

1,332 IU daily

[2 stars]

4,000 IU per day