Penn Herb Wellness Guide
Also indexed as:B-Complex Vitamin, B Complex Vitamin, Vitamin B17, Adenine, Vitamin B4, Vitamin B8, Vitamin B Complex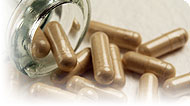 The vitamin B-complex refers to all of the known essential water-soluble vitamins except for vitamin C. These include thiamine (vitamin B1), riboflavin (vitamin B2), niacin (vitamin B3), pantothenic acid (vitamin B5), pyridoxine (vitamin B6), biotin, folic acid and the cobalamins (vitamin B12).
"Vitamin B" was once thought to be a single nutrient . Researchers later discovered these extracts contained several vitamins, which were given distinguishing numbers, leading many people to the erroneous conclusion that these vitamins have a special relationship to each other. Further adding to confusion has been the "unofficial" designation of other, non-essential vitamins, as members of the B-complex, such as choline, inositol, and para-aminobenzoic acid (PABA).
Each member of the B-complex has a unique structure and performs unique functions in the human body. Vitamins B1, B2, B3, and biotin participate in different aspects of energy production, vitamin B6 is essential for amino acid metabolism, and vitamin B12 and folic acid facilitate steps required for cell division.
Each of these vitamins has many additional functions, though none that require all B-complex vitamins simultaneously. Human requirements for each B vitamin vary considerably—from 3 mcg per day for vitamin B12 to 18 mg per day for vitamin B3 in adult males, for example. So, taking equal amounts of each one—as provided in many B-complex supplements—makes little sense. Megadoses of B-complex vitamins sometimes taken to combat everyday stress, boost energy, or control food cravings, do not appear to offer benefit unless a person is deficient in one or more of them.
Most multivitamin-mineral products contain the B-complex along with the rest of the essential vitamins and minerals. Since they are more complete than B-complex vitamins alone, multiple vitamin-mineral supplements are recommended to improve overall micronutrient intake and prevent deficiencies.
Reliable and relatively consistent scientific data showing a substantial health benefit.
Contradictory, insufficient, or preliminary studies suggesting a health benefit or minimal health benefit.
For an herb, supported by traditional use but minimal or no scientific evidence. For a supplement,little scientific support.
Our proprietary "Star-Rating" system was developed to help you easily understand the amount of scientific support behind each supplement in relation to a specific health condition. While there is no way to predict whether a vitamin, mineral, or herb will successfully treat or prevent associated health conditions, our unique ratings tell you how well these supplements are understood by the medical community, and whether studies have found them to be effective for other people.
For over a decade, our team has combed through thousands of research articles published in reputable journals. To help you make educated decisions, and to better understand controversial or confusing supplements, our medical experts have digested the science into these three easy-to-follow ratings. We hope this provides you with a helpful resource to make informed decisions towards your health and well-being.
This supplement has been used in connection with the following health conditions:
Used for
Amount
Why

Wound Healing

Follow label directions

[3 stars]

Thiamine (vitamin B1), pantothenic acid (vitamin B5), and other B vitamins have all been shown to play a role in wound healing. For this reason, some healthcare practitioners recommend a high-potency B vitamin supplement to promote wound healing.

Canker Sores

300 mg B1 daily, 20 mg B2 daily, 150 mg B6 daily

[2 stars]

People with recurrent canker sores may have a B vitamin deficiency. Supplementing with vitamins B1, B2, and B6 has been reported to provide relief.

Acne Rosacea

Refer to label instructions

[1 star]

The relationship between B vitamins and rosacea is unclear, one study found it caused rocacea-like symptoms, other preliminary reports have found benefits.

Alcohol Withdrawal

Refer to label instructions

[1 star]

Research suggests it is possible that successful treatment of B-complex vitamin deficiencies may actually reduce alcohol cravings, because animals crave alcohol when fed a B-complex-deficient diet.

Anxiety

Refer to label instructions

[1 star]

Double-blind research suggests that supplementing with vitamin B-complex multivitamin may reduce feelings of anxiety, perceived stress, and tiredness.

Attention DeficitHyperactivity Disorder

Refer to label instructions

[1 star]

B vitamins have been used for ADHD. High amounts of B vitamins have shown mixed results in relieving ADHD symptoms.

Hives

Refer to label instructions

[1 star]

In one study, treatment with a hydrochloric acid supplement and a vitamin B-complex supplement helped to treat people with hives.

Indigestion, Heartburn, and Low Stomach Acidity

Refer to label instructions

[1 star]

People with achlorhydria (no stomach acid) or hypochlorhydria may not metabolize B vitamins properly, putting them at risk of developing various nutritional deficiencies, which could presumably contribute to the development of a wide range of health problems.

Indigestion, Heartburn, and Low Stomach Acidity, and Vitamin B12 Deficiency

Refer to label instructions

[1 star]

For people who have inadequate absorption of vitamin B12 due to low stomach acid, supplementing with vitamin B complex can help correct a deficiency.

Osteoporosis

Refer to label instructions

[1 star]

In one trial postmenopausal women who combined hormone replacement therapy with B vitamins and other nutrients and dietary changes increased their bone density by a remarkable 11%.

Premenstrual Syndrome

Refer to label instructions

[1 star]

Research has linked B vitamin deficiencies to PMS, so some women may benefit from supplementing with B-complex vitamins for symptom relief.

Tardive Dyskinesia

Refer to label instructions

[1 star]

In some studies, taking vitamin B-complex along with other nutrients appeared to prevent the development of tardive dyskinesia.

Vitiligo

Refer to label instructions

[1 star]

PABA, a compound commonly found in B-complex vitamins, has been shown to repigment skin affected by vitiligo.
Copyright 2023 TraceGains, Inc. All rights reserved.
Learn more about TraceGains, the company.
The information presented by TraceGains is for informational purposes only. It is based on scientific studies (human, animal, or in vitro), clinical experience, or traditional usage as cited in each article. The results reported may not necessarily occur in all individuals. Self-treatment is not recommended for life-threatening conditions that require medical treatment under a doctor's care. For many of the conditions discussed, treatment with prescription or over the counter medication is also available. Consult your doctor, practitioner, and/or pharmacist for any health problem and before using any supplements or before making any changes in prescribed medications. Information expires December 2023.