Penn Herb Wellness Guide
Stress
"Stressed out" is a common phrase these days. While some stress is healthy, unwanted stress can be harmful. According to research or other evidence, the following self-care steps may be helpful.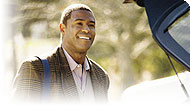 About This Condition
The popular idea of stress in relation to human health is often described as an unpleasant mental or emotional experience, as when people say they are "stressed out." This expression relates primarily to the idea of prolonged or sudden and intense stress, which can have unpleasant effects on the body, impairing the ability to function, and even harming health.1, 2, 3 However, the biological concept of stress is much more broadly defined as any challenge (physical or psychological) that requires an organism to adapt in a healthy manner. In other words, responses to stress can sometimes be of benefit when the organism is strengthened by the experience. The discussion below focuses on reducing the effects of excessive, unwanted stress.
Symptoms
Symptoms may include anxiety, fatigue, insomnia, stomach problems, sweating, racing heart, rapid breathing, shortness of breath, and irritability. Many health problems have been associated with various kinds of sudden or long-term stress, including alcohol abuse,4asthma,5chronic fatigue,6, 7erectile dysfunction and male infertility,8fibromyalgia,9 headaches,10heart disease,11, 12, 13high blood pressure,14, 15immune system dysfunction,16, 17, 18indigestion, irritable bowel syndrome,19 mood disorders such as anxiety and depression,20, 21peptic ulcers,22pregnancy complications,23, 24, 25rheumatoid arthritis,26 skin diseases,27 impaired wound healing,28 and others.29, 30, 31, 32, 33, 34 Problems with recovery from surgery and impaired workplace performance are also associated with excessive stress.35, 36, 37, 38
Healthy Lifestyle Tips
While cigarette smokers often describe their habit as relaxing, smoking is associated with increased stress levels,39 and stopping the habit eventually results in reduced feelings of stress.40
Drinking alcohol can reduce feelings of stress,41 but using alcohol regularly in response to chronic or repetitive stress can lead to an unhealthy dependency.
Exercise has long been thought to have potential benefits to mental health and stress reduction;42, 43 however, exercise can also be stressful when it is intense or competitive.44, 45 Many preliminary studies have found that regular exercisers score better on measures of psychological well-being and perceived stress,46, 47, 48, 49, 50 and that people who improve their exercise habits develop changes in their mental attitudes that are associated with better resistance to stress.51 A controlled trial found that a single session of aerobic exercise reduced the anxiety associated with a subsequent experience designed to be psychologically stressful.52 However, studies of overall aerobic fitness have found that people with higher fitness levels are not different from those with lower fitness in their resistance to stress. One preliminary study gave aerobically fit and unfit women a mentally stressful test, and found no differences between them in physical or psychological measures of their stress reaction.53 Another preliminary study found that while physical activity was associated with reduced stress symptoms, having high aerobic fitness had no influence.54 This may mean that effects other than improved aerobic fitness, such as an improved self-image or the social support from belonging to an exercise group, are responsible for the benefits of exercise on controlling stress. A preliminary study in Thailand found that postmenopausal women who completed an aerobic exercise program consisting of 40- to 50-minute sessions twice weekly for 12 weeks had improved scores on a questionnaire designed to measure psychological stress.55 In a controlled trial, cancer patients hospitalized for chemotherapy who exercised for 30 minutes daily until discharge had significant improvement in several measures of psychological distress, while a similar group who did not exercise showed no change in these measures.56 In a controlled trial, 10 weeks of aerobic exercise resulted in healthier responses to acute mental stress in college students compared with students who did no exercise.57
Holistic Options
Mind-body medicine is a branch of healing that focuses on the role of thoughts and emotions on physical health. Many techniques used in this healing system, including biofeedback, relaxation training, tai chi, yoga, and meditation, which affect the nervous system in ways that could theoretically help people cope with stress.58 In a controlled trial, tai chi practice, meditation, walking exercise, and quiet reading all resulted in similar biochemical and psychological improvements in the response to a stressful experience.59 Meditation, practiced for spiritual reasons, for relaxation, or as part of the treatment of a disease, has been reported helpful for stress reduction in preliminary studies.60, 61, 62 A controlled study found 15 minutes of meditation twice a day reduced measures of stress in adolescents during two experiences designed to produce stress.63 Other controlled studies have found reductions in reported stress and related psychological measures after a program of meditation.64, 65
Stress reduction programs involving combinations of group counseling, instruction in coping skills and problem-solving, relaxation training, meditation, or other methods are effective for reducing stress and helping to prevent or manage health problems relating to stress, according to preliminary and controlled research.66, 67, 68, 69, 70, 71
Copyright 2022 TraceGains, Inc. All rights reserved.
Learn more about TraceGains, the company.
The information presented by TraceGains is for informational purposes only. It is based on scientific studies (human, animal, or in vitro), clinical experience, or traditional usage as cited in each article. The results reported may not necessarily occur in all individuals. Self-treatment is not recommended for life-threatening conditions that require medical treatment under a doctor's care. For many of the conditions discussed, treatment with prescription or over the counter medication is also available. Consult your doctor, practitioner, and/or pharmacist for any health problem and before using any supplements or before making any changes in prescribed medications. Information expires December 2022.