Penn Herb Wellness Guide
Do You Need More of this Vitamin for Vitality?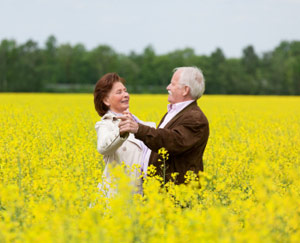 In addition to bone health, vitamin D may be vital to muscle function and mobility
Decades of research have focused on the importance of vitamin D for maintaining healthy bones, especially as we age. The relationship between vitamin D and bone health was cited as the most important consideration when the Institute of Medicine expert panel updated the vitamin D recommendations in 2010 as well. But vitamin D may be vital for healthy aging for another reason: Without enough of it, muscle function and mobility can be impaired, which is a leading cause of falls in seniors, and can lead to broken bones and other injuries.
More D for more muscle
To examine the connection between vitamin D, muscle strength, and mobility, researchers studied 302 women between ages 70 and 90 with low blood vitamin D levels. The women were divided into two groups, receiving either 1,000 IU of vitamin D per day or a placebo. Lower body muscle strength was measured at the beginning and end of the study. Mobility was assessed with the timed up-and-go test, which measures how long it takes a person to get up from a chair, walk a short distance, and return to the chair.
After a year of supplementing with vitamin D, compared with the placebo group, women with the weakest leg muscle strength and poorest mobility at the beginning of the study had significantly greater forward and backward (extensor) strength, side-to-side (abductor) strength, and faster timed up-and-go tests. Only the group who took supplements showed significant increases in blood vitamin D levels.
Getting the right dose of D
Keep the following tips in mind about vitamin D and how to help yourself age well:
Ask your doctor or dietitian for a recommendation on what amount is right for you.
Stay active as you age. It's easy to do less over time, and the best way to remain active is to never stop being active in the first place.
If you have an injury or simply struggle to complete activities of everyday life, ask your doctor for a referral to a physical therapist or exercise physiologist. A targeted program to strengthen the body can go a long way toward helping us stay independent and healthy as we age.
(J Am Geriatr Soc 2010;58:20638)
Suzanne Dixon, MPH, MS, RD, an author, speaker, and internationally recognized expert in chronic disease prevention, epidemiology, and nutrition, has taught medical, nursing, public health, and alternative medicine coursework. She has delivered over 150 invited lectures to health professionals and consumers and is the creator of a nutrition website acclaimed by the New York Times and Time magazine. Suzanne received her training in epidemiology and nutrition at the University of Michigan, School of Public Health at Ann Arbor.
Copyright 2022 TraceGains, Inc. All rights reserved.