Summer Remedies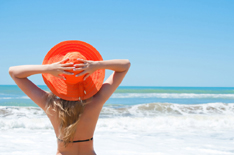 Natural Summer Remedies
Summer is here and we have all the natural summer essentials you will need – everything from cooling sunburn relief, motion sickness remedies, natural insect repellents and more!
Get these essential summer skincare and natural remedies:
Aloe Vera Gel: Fast, soothing relief for sunburn pain.
Ginger: Cruising? Road trip? Get the #1 herbal remedy for motion sickness. Favorite
Kid's Relief Calendula Plus First Aid Cream: Cooling cream for children's sunburn, scrapes and scars.
Olbas Oil: Camping or hiking instead? The cooling essential oil blend relieves stings, bites, sprains, AND repels insects. Best Seller!
Visit our Wellness Guide for tips on how to say safe in the summer heat.
---
---
---
---
---
---
---
---
---
---
---
---
---
---
---
---
---
---
---
---
For more results, click here for Advanced Search