Penn Herb Wellness Guide
Staying Safe in the Summer Heat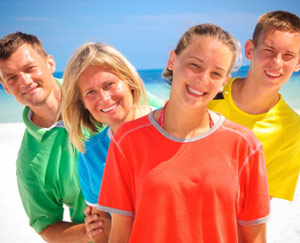 Drink more fluids during periods of hot weather—don't wait until you feel thirsty
Climatologists expect the trend of sizzling summers to continue, and predict that more people will be at risk for heat-related health problems. A report in the Lancet examines the effects of various measures to protect individuals and communities from the harmful effects of atmospheric heat.
How the body keeps cool
When the outside temperature rises above the normal core body temperature of 98.6F (37C), internal mechanisms for releasing heat kick in, including sweating, more blood pumped by the heart, and more blood flowing to the skin. Poor aerobic fitness; chronic cardiovascular, kidney, or respiratory conditions; and some medications can reduce a body's ability to adapt to high temperatures and increase the risk of heat exhaustion and life-threatening heatstroke (in which the core body temperature reaches 105F or 40.6C). Other risk factors for heat illness identified in the report are confinement to bed, not leaving the home every day, having a psychiatric illness, and being unable to care for oneself.
Sorting facts from myths
The report's authors looked at many sources of advice for preventing heat-related illness and found that many of the suggested precautions are supported by science but some are not. The best recommendations:
Drink more fluids during periods of hot weather. Don't wait until you feel thirsty.
Get used to it. Acclimatization may be the best protection. Healthy people are advised to spend some time exposed to the heat in order to stimulate the body's adaptive responses. People at high risk of heat-related illness, however, should stay in cool and air-conditioned places.
Keep it cool. Wear loose-fitting clothing and take frequent cool showers or baths. These measures allow optimum heat release.
Take it easy. Physical activity increases internal heat production, adding to the heat burden in the body. Restrict strenuous tasks to the coolest times of the day.
Talk with your doc. People who take prescription medications should talk with their doctor about whether the medications increase their risk of heat illness and how to monitor their status when the weather turns hot.
Don't overdo the alcohol. Even small amounts of high-alcohol spirits can cause dehydration and impair cardiac output and judgment.
The report points out that some common suggestions are not as well supported. For example, using electric fans, while not dangerous, has not been found to be helpful, and moderate consumption of caffeinated drinks and low-alcohol content drinks such as beer, despite their diuretic effects, do not appear to increase the risk of heat-related problems.
Know the signs
Heatstroke can come on very quickly once the body has lost its ability to cope with heat, so pay attention to the signs of heat-related stress:
Heavy sweating and paleness
Fatigue, muscle cramping, and weakness
Dizziness and headache
Rapid, weak heartbeat and fast, shallow breathing
These are signs that you need to cool off, so take a rest from physical activity, drink a tall glass of water, and take a cool shower. If you or someone you are with experiences severe symptoms such as intense nausea, vomiting, or fainting, seek emergency medical care.
(Lancet 2010;375:85663)
Maureen Williams, ND, received her bachelor's degree from the University of Pennsylvania and her Doctorate of Naturopathic Medicine from Bastyr University in Seattle, WA. She has a private practice on Cortes Island in British Columbia, Canada, and has done extensive work with traditional herbal medicine in Guatemala and Honduras. Dr. Williams is a regular contributor to TraceGains Newswire.
Copyright 2021 TraceGains, Inc. All rights reserved.