Search results for "Multivitamins For Men"
---
Multivitamins For Men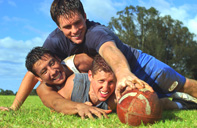 Targeted Multivitamins for Men
Stay on the right nutritional track with our selection of targeted multivitamins for men. In addition to providing the necessary vitamins and minerals the body needs for daily wellness, they also include specific nutrients menís unique nutritional needs, such as Saw Palmetto and Lycopene for prostate health as well as Tribulus for healthy testosterone levels. Discover some of our most-requested formulas:
Active Man: Power-packed multivitamin-mineral-herbal formula supports male health & vitality.
Hair, Skin & Nails for Men: Specialized formula includes high potency Biotin and other nutrients to promote vital hair, skin and nails from within.
Men Over 55 Multivitamins: Includes key nutrients for the mature man and WITHOUT the ones you donít need such as Iron, vitamin K, and calcium.
---
See more natural remedies for men:
Click HERE for all Menís Health Remedies
Click HERE for Menís Sexual Health Remedies

Boost Daily Performance With Power Herbs & Nutrients
Item #V1212
---

Whole Food Multi for Menís Health & Wellbeing
Item #V9321
---

Men's Multi with Enhanced Nutrient Absorption
Item #BSR21
---

Whole Food Multi Nourishes, Strengthens & Revitalizes
Item #B23M
---

One-A-Day, Iron-Free Multi For Men Over 55
Item #BME17
---

Men's Whole Food Multi For Energy & Stress Support
Item #B27F
$24.99
SRP

$25.96

Save $0.97
---

Men's Whole Food Multi For Energy & Stress Support
Item #B27G
$39.99
SRP

$42.96

Save $2.97
---

Daily Nutritional Support with Organic Veggies
Item #BBL51
---

Specialized Multivitamin-Herbal-Nutrient Blend For Men's Health
Item #B63B
$20.99
SRP

$29.99

Save $9.00
---

Wholefood Multi For Men
Item #B23S
---

Multi For Men Over 55 - No Iron, Vitamin K
Item #B23
---
For more results, click here for Advanced Search