Search results for "Essential Fatty Acids"
---
Essential Fatty Acids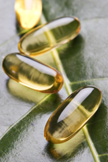 The "Good Fats" For Whole Body Health
Essential fatty acids cannot be manufactured by the body and must, therefore, be supplied through the diet. Whether they are obtained from fish or plant sources, these extraordinary nutrients are important for supporting heart, memory, joint, and skin health. Some of our more popular essential fatty acid sources include:
Black Seed Oil …The cold-pressed oil from the Black Cumin seed provides immune and inflammation support. Best Seller!
Cod Liver Oil …Provides the Omega-3 fatty acids DHA and EPA along with vitamins A & D for immune, heart & joint support.
Evening Primrose Oil …Plant source of GLA, the Omega-6 fatty acid for skin and healthy inflammatory response.
Super EPA Fish Oil …High potency Omega-3 DHA & EPA for heart, joint & skin health.Best Seller!
Visit our Wellness Guide for more information on other beneficial fatty acids.
---
---
---
---
---
---
---
---
---
---
---
---
---
---
---
---
---
---
---
---
---
---
---
---
---
---
---
---
---
---
For more results, click here for Advanced Search