Search results for "Cold Season Remedies"
---
Cold Season Remedies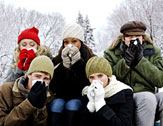 Natural Winter Wellness Remedies
In many parts of the world, the onset of winter brings a frosty landscape. Yet with this beauty also comes unpleasant seasonal discomforts. Lose that "blah" feeling and promote immune system balance with a helping hand from nature's wonderland.
Boost immune defenses and protect your family with these simple precautions:
Get adequate rest so your immune system can rejuvenate itself

Wash children's toys after play

Reinforce immune health with Vitamin C and Astragalus

Soothe respiratory discomforts with Olbas Oil, Goldenseal & Myrrh
Discover more secrets to pumping up your immune system and staying healthy.
---
---
---
---
---
---
---
---
---
---
---
---
---
---
---
---
---
---
---
---
---
---
---
---
---
---
---
---
---
---
---
---
---
---
---
---
---
---
---
---
---
---
---
---
---
---
For more results, click here for Advanced Search