Penn Herb Wellness Guide
Natural Hair Enhancement
Haircare Ingredients from Nature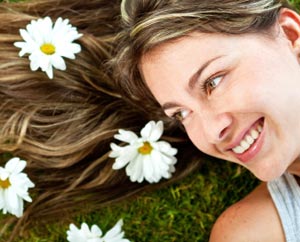 Manufacturers often add nutritional and herbal ingredients based on traditional use or benefits expected
Like your skin, the look and feel of your hair greatly depends on your internal health. However, your shampoo, conditioner, and styling products can make a huge difference in your hair's health. Synthetic ingredients such as parabens can be hard on your hair (and your body), while natural ingredients such as botanicals, oils, and vitamins can safely condition and strengthen your locks.
While these effects may or may not have been studied scientifically, manufacturers often add nutritional and herbal ingredients based on traditional use or benefits expected due to known chemical actions in the body. Ingredient quality can vary, with important properties sometimes lost in processing, so experimentation with different products is your best bet for finding those that support your hair's particular needs.
Hair-Strengthening Supplements: Biotin, B-complex vitamins, coenzyme Q10, hyaluronic acid, vitamin C, vitamin E
Herbs for Healthy Hair: Aloe,almond oil, chamomile, ginger, jojoba oil, lavender, rosemary, peppermint, green tea, sea buckthorn, sea algae, kelp, tea tree oil
Everyday Haircare Ingredients: Cocoa butter, coconut, fruits (such as mango, papaya, and avocado), honey mud and clay hair masks, oatmeal
A nutritional anthropologist by training, Linda Knittel works as a nutritional counselor and health writer. She writes regularly about nutrition, alternative medicine, traditional diets, yoga, and fitness for publications such as Natural Health, Yoga Journal, Body & Soul, Fitness, Gourmet, and Let's Live. She is also the author of the User's Guide to Natural Remedies for Depression (Basic Health Publications, 2003).
Copyright 2023 TraceGains, Inc. All rights reserved.