Penn Herb Wellness Guide
Summer Diabetes Support—A Few Smart Reminders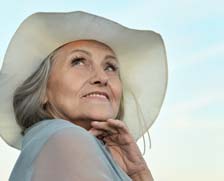 Putting your health first will ensure you're up for anything and everything this season
Picnics and ball games, beach getaways with the family, and dinner on the patio—there is much to look forward to about summer, even when managing serious conditions, like diabetes. When living with diabetes, it's vital to safeguard your health during the warmer months, but with a few simple steps, you can get the most out of your time in the sun.
Safety first
Putting your health first will help ensure you're up for anything and everything this season:
Protect your feet. Only go shoeless if you're absolutely certain that the area is completely free of glass, bottle caps, sticks, sharp stones, or any object that can break the skin or bruise. Consider investing in a pair of "water shoes" or sandals with canvas straps and a rubber bottom that you can wear at all times. Your toes will feel the open breeze and you reduce your risk for foot injuries or infections when you go into the water.
Drink up. Choose water (and plenty of it) over juices, soda, and sports drinks that can raise blood sugar levels. Even small increases in your blood sugar numbers can increase urination and speed you toward dehydration.
Manage medications. When you're more active than usual, be sure to adjust your diabetes medications accordingly. More activity tends to lower blood sugar levels, so you may need a lower dose of your diabetes medications. Ask your doctor how best to manage your medications during new physical activities.
Count your carbs. Traditional summer and picnic foods may contain more carbohydrates than your typical day's intake. Be mindful of how much you're eating and account for extra carbs that can come from fruit and gelatin salads, popsicles, desserts, and hamburger and hotdog buns, which may be more servings than regular bread.
Test frequently. Heat can cause both increases and drops in blood sugar levels, so you may need to test your blood sugar more often. Remember to carry enough test supplies with you to account for this.
Ask about alcohol. Alcohol can pop up anywhere during summer gatherings. Ask your host if there is alcohol in punch or other drinks before imbibing. If you don't normally drink, ask your doctor if, and how much, alcohol is OK for you. An occasional drink may be fine for some people with diabetes, but may cause problems for others.
Be sun smart. Avoid strong midday sun and always use sunscreen and sunglasses when outdoors. Serious sunburns can lead to complications such as skin infections and too much sun exposure may worsen eye problems that can affect people with diabetes as well.
Watch the heat. People with diabetes can be more likely to suffer from the effects of extreme heat. If you feel dizzy, clammy, exhausted, weak, or light-headed, have a headache, are nauseated or vomiting (seek medical attention if vomiting continues), or are sweating excessively—all signs of heat exhaustion—get out of the heat immediately and sip water.
(Plan for Diabetes Care in Heat & Emergencies. CDC. http://www.cdc.gov/features/diabetesheattravel/)
Suzanne Dixon, MPH, MS, RD, an author, speaker, and internationally recognized expert in chronic disease prevention, epidemiology, and nutrition, has taught medical, nursing, public health, and alternative medicine coursework. She has delivered over 150 invited lectures to health professionals and consumers and is the creator of a nutrition website acclaimed by the New York Times and Time magazine. Suzanne received her training in epidemiology and nutrition at the University of Michigan, School of Public Health at Ann Arbor.
Copyright 2023 TraceGains, Inc. All rights reserved.