Penn Herb Wellness Guide
Smile-Saving Green Tea Benefits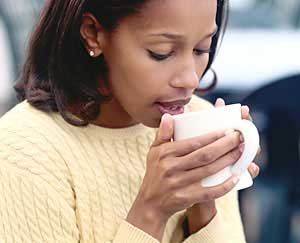 People who drank 1 cup or more of green tea a day had a lower risk of tooth loss than people who drank less
A study in
Preventive Medicine
suggests
green tea
may be adding dental health to its health-promoting repertoire, which already includes heart health support and cancer prevention. Specifically, the study suggests that drinking just a cup of green tea a day may decrease the risk of tooth loss.
Put the kettle on
Plant chemicals in green tea known as catechins may combat bacteria that lead to cavities and gum disease. These same chemicals may also help prevent tooth loss.
This current report reviewed data from the Ohsaki Cohort 2006 Study, in which 25,078 people (ages 40 to 64) living in Japan filled out questionnaires that included questions about green tea intake and about dental health. Results showed:
People who drank one cup or more of green tea a day had a lower risk of tooth loss than people who drank less.
Study researchers commented that a typical green tea preparation contains a catechin concentration of 50 to 150 mg per 100 ml and suggest the amount of catechins contained in one cup of green tea might be enough to help prevent tooth loss.
Other lifestyle choices may have had an effect on the participants' dental health. It should be noted that no definitive conclusions about the impact of green tea on tooth loss can be drawn from this study alone.
Tips to protect teeth
Tooth loss is most commonly caused by tooth decay and gum disease, so it is important to practice healthy behaviors that optimize the health of your teeth and help prevent disease. Here are some tips for keeping your teeth healthy:
See a dentist. The American Dental Association recommends brushing your teeth twice a day, flossing daily, and recommends regular teeth cleaning and check-ups at a dentist's office.
Cut down on sugar. As it may increase cavity-producing bacteria in the mouth, limit sugar in your diet and don't add it to tea or coffee drinks.
Eat a balanced diet. Don't rely on green tea alone for dental health. It is important to eat a balanced diet that includes an abundance of veggies and fruits and a source of protein.
(Prev Med 2010;50:1739.)
Jane Hart, MD, board-certified in internal medicine, serves in a variety of professional roles including consultant, journalist, and educator. Dr. Hart, a Clinical Instructor at Case Medical School in Cleveland, Ohio, writes extensively about health and wellness and a variety of other topics for nationally recognized organizations, websites, and print publications. Sought out for her expertise in the areas of integrative and preventive medicine, she is frequently quoted by national and local media. Dr. Hart is a professional lecturer for healthcare professionals, consumers, and youth and is a regular corporate speaker.
Copyright 2020 TraceGains, Inc. All rights reserved.