Penn Herb Wellness Guide
Secrets to Keep That Stellar Smile
Tooth brushing is forever, your current toothbrush isn't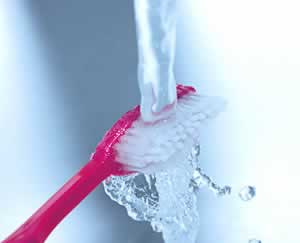 Change your toothbrush when it is no longer spongy and flexible
Brushing carefully several times every day? That's great. But after a while, it's time to keep up the tooth brushing, but replace the toothbrush.
Change with the seasons
Experts from the Academy of General Dentistry recommend that you change your toothbrush before the bristles become frayed and separated, or about every three to four months. "A good rule of thumb is to change your toothbrush when it is no longer spongy and flexible," says Dr. Alan Zweig, a fellow of the Academy of General Dentistry, and a practicing dentist in Los Angeles, CA.
Older toothbrushes are not only ineffective, but potentially harmful, as bacteria can also lodge inside and in between the bristles and cause cavities and infections.
Had a cold or the flu? Replace your toothbrush when you're better, so you don't reinfect yourself with germs left behind on your toothbrush.
Keep it high and dry
"Rinse out your toothbrush with tap water after you finish brushing," recommends Dr. Zweig. Then put it in a dry place, standing up, after each use. Traveling? Don't cover the brush. That could create a moist environment ripe for bacteria that a toothbrush would easily transfer to your teeth and gums.
Pick the perfect toothpaste
"These days expect to find lots of different types of toothpastes on store shelves," says Dr. Zweig. Toothpaste gives the mouth a fresh, clean feeling, and certain types of toothpaste deliver specific results:
Fluoride—Strengthens tooth enamel
Whitening—Whitens teeth up to two shades in six months
Sensitivity—Uses potassium nitrate to block hot/cold sensitivity (when using a sensitivity toothpaste, put a lot of paste on the brush)
Tartar control—Removes tartar-producing calcium phosphate from the teeth to help keep future tartar deposits from forming.
Don't forget the floss
Brushing may be the cornerstone of your healthy mouth—but floss is essential for those hard-to-reach areas between the teeth. Dental tape, waxed and unwaxed flosses all work well, just choose your favorite and be sure to stick with it.
Fran Kritz, a freelance writer from Silver Spring, MD, replaces her toothbrush every time she goes on a business trip, because she usually forgets to take the one from home!
Copyright 2020 TraceGains, Inc. All rights reserved.