Search results for "Superfoods"
---
Superfoods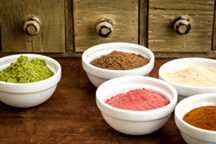 Power-Packed Super Foods for Energy & Vitality
Superfoods are so called because they're packed with super nutrients such as antioxidants, vitamins, minerals, trace minerals, protein, and more! They offer a convenient and often tasty way to boost energy, stamina, and to promote overall vitality!
Some of the more popular superfoods include:
Acai Berries: These Brazilian berries feature fiber, fatty acids, and anthocyanins, powerful antioxidant bioflavonoids that gives them their deep purple color.
Beet Powder: Boost performance and promote cardiovascular health with the purple-powered powder. It boasts fiber, potassium, folic acid, and vitamin C.
Moringa: Recharge & revitalize with the Ayurvedic tonic! Its tiny leaves are packed with calcium, magnesium, beta-carotene and protective antioxidants.
Spirulina: Immune support, energy, detox – get it all with super algae. It is a storehouse of protein, amino acids, and chlorophyll.
Get the super nutrition you need for your active and healthy lifestyle.
---
---
---
---
---
---
---
---
---
---
---
---
---
---
---
---
---
---
---
---
---
---
---
---
---
---
---
---
---
---
---
---
---
---
---
---
---
---
---
---
---
---
---
---
---
---
---
---
---
---
For more results, click here for Advanced Search