Search results for "Spices"
---
Spices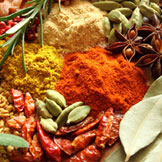 Premium Quality Spices from Around the World
Discover the complex flavors, exotic aromas, and tantalizing taste sensations of premium culinary spices. Plus they're healthy too! Research now shows that common kitchen spices such as Turmeric, Cayenne, Cinnamon, and Ginger can help improve heart, joint, and blood pressure wellness! So go ahead and stock up on your favorite healthy spices and create culinary masterpieces your friends and family will love.
Why get your spices from Penn Herb Company instead of the supermarket?
Price…You get premium quality spices at a reasonable price.

Quality…Our organic and wild-harvested spices are inspected and certified for freshness.

Selection…Find a wide variety of common and not-so-common spices for today's popular recipes.
Discover the healing secrets of black pepper, cloves, cinnamon, oregano, and other popular spices. For a limited time get Dr. Susan Smith Jones' Spice Booklet FREE with any size order. Enter Promo Code SPICEBK at Checkout.
---
---
---
---
---
---
---
---
---
---
---
---
---
---
---
---
---
---
---
---
For more results, click here for Advanced Search