Search results for "Glandular Support"
---
Glandular Support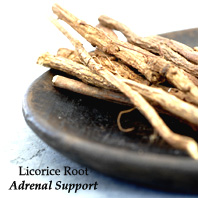 Natural Glandular Therapies
Our body's intricate system of glands support hundreds of vital body functions by secreting hormones, eliminating toxins, and supporting reproductive function, energy metabolism, circulatory health and more!
Nourish and support each glandular system with targeted herbs and nutrients:
Adrenal Support…The adrenal glands affect mood and our stress response. This herbal-nutrient complex nourishes and supports healthy adrenal function.
Glands Support…Master herbal blend provides comprehensive cleansing and soothing support for the entire glandular system.
Pancreas Support Formula…The pancreas maintains healthy blood sugar levels. Goldenseal, Licorice and other traditional herbs work together to support healthy glucose metabolism.
Thyroid Support …The thyroid affects metabolism, among other functions. This comprehensive formula improves low thyroid function and metabolism. Favorite!
Support your body's hard-working organs with natural, nourishing glandular therapies.
---
---
---
---
---
---
---
---
---
---
---
---
---
---
---
---
---
---
---
---
---
---
---
For more results, click here for Advanced Search