Search results for "Energy"
---
Energy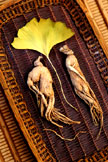 Get Going with Nature's Energizers
Before you grab that over-caffeinated, high-sugar energy drink, consider nature's energizers instead! They raise energy levels and promote all-day stamina without jittery-causing, artificial stimulants.
Raise your energy levels to new heights with these natural pick-me-up solutions:
Energy Boost Essential Oil Blend…Invigorating aromatic oils wake up the senses & boost mental alertness.
Ginseng…Stress affects our energy levels. The ancient root helps your body deal with stress and burn-out, thereby raising low energy.
Matcha Green Tea… Banish energy slumps with this mellow form of Green Tea. Its natural caffeine-content is balanced with the calming compound, L-Theanine.
Women's Energy Balance…Female vitality tonic boosts energy and helps balance hormones for all day vitality.
Visit the Penn Herb Wellness Guide and discover more energizing herbs.
---
---
---
---
---
---
---
---
---
---
---
---
---
---
---
---
---
---
---
---
---
---
---
---
---
---
---
---
---
---
---
---
---
---
---
---
---
---
---
---
---
---
---
---
---
---
---
---
---
---
For more results, click here for Advanced Search