Search results for "Multivitamins"
---
Multivitamins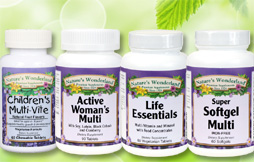 How To Choose The Right Multivitamins
Ideally, daily nutritional needs should be met through a good diet, but the typical diet does not always supply all the vitamins and minerals a body needs. Multivitamins are convenient nutrient combinations, usually taken one to six times per day.
Help bridge the nutritional gap with the following premium formulations:
Active Man Multi…multivitamin-herbal formula for athletes and active men.
Children's Multi-Vite…chewable, naturally fruit-flavored multi provides essential nutrients for growing children.
Life Essentials….multivitamin plus whole food concentrates, herbs, and probiotics especially for those with sensitive stomach.
One Daily Multicaps…one-a-day, high potency herb-free multi in easy-to-swallow vegetarian capsules.
A Healthy Persons Guide To Vitamins And Minerals
---
---
---
---
---
---
---
---
---
---
---
---
---
---
---
---
---
---
---
---
---
---
---
---
---
---
---
---
---
---
---
---
---
---
---
---
---
---
---
---
---
For more results, click here for Advanced Search