Search results for "Motion Sickness"
---
Motion Sickness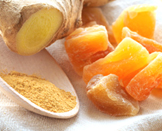 Natural Motion Sickness Remedies
Motion sickness results from an inner ear imbalance, where your brain gets mixed signals about whether you are in motion or not. This generally results in nausea, upset stomach, dizziness, and general discomfort. In addition to simple approaches such as taking deep breaths and looking at a stable object such as the horizon or the windshield, natural remedies can help to prevent and soothe motion sickness symptoms.
If you are traveling soon, don't forget some of these popular remedies:
Ginger Capsules, Chews, and Syrup: The most-requested herb for preventing AND relieving motion sickness miseries. Studies show it to be as effective as the leading motion sickness drug, but with fewer side effects. Favorite!
Peppermint Spirits: Get the refreshing, fast-acting power of pure Peppermint Oil to quickly calm nausea and soothe a queasy stomach.
Spearmint Essential Oil: The sweet, minty scent is an effective aromatherapy aid for quelling motion sickness symptoms. For instant relief, dab a couple drops on your clothing near your nose or inhale directly from the bottle.
Here are three simple strategies for motion sickness relief and prevention.
---
---
---
---
---
---
---
---
---
---
---
---
---
---
---
---
---
---
For more results, click here for Advanced Search