Search results for "Foot Care"
---
Foot Care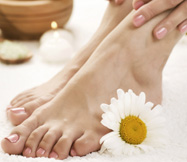 Natural Foot Care Solutions
Take a step in the right direction with these easy, natural foot care solutions. Whether it is sandals, sneakers or boot season, our hard working feet deserve a little pampering to keep them smelling great, looking good and feeling comfortable.
Bamboo Charcoal Socks …thermal-regulating socks promotes circulation and kills odor-causing bacteria.
Epsom Salt …exfoliating mineral helps smooth dry, rough skin callused heels & softens skin.
Olbas Herbal Bath …therapeutic blend of refreshing essential oils cool and soothe hot, aching, tired feet.
Tea Tree Oil …multipurpose anti-bacterial essential oil provides powerful protection for heel cracks and nails.
Keep your feet in good standing with nature's remedies.

Herbal Bath Soothes, Relaxes and Helps You Breathe Easier
Item #LBA8
---

On Your Feet All Day? Get Butcher's Broom
Item #074AX
---

The Multipurpose Antiseptic Oil for Your First-Aid Kit
Item #556B-10
---

Supports Youthful Leg Appearance
Item #BLF07
---

The Mineral Beauty & Body Care Solution
Item #156P1
---

Cools, Soothes & Softens Heels and Feet
Item #A88F
---

Breakthrough Ingredients Support Healthy Nerve Function
Item #BEP46
---

Support Nerve Health & Blood Sugar Metabolism
Item #B35U
---

Calm Agitated Legs So You Can Rest
Item #D91J
---
For more results, click here for Advanced Search