Capsule Filler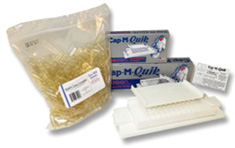 The Easy Way To Fill Empty Capsules
Cap-M-Quik™ manual capsule filler is a must have tool for making your own supplements. It allows you fill 50 empty capsules with powdered herbs or vitamins in less than 10 minutes – no more bitter or unpleasant tastes.
Cap-M-Quik™ Tamper …The ideal accessory for the capsule filler, lets you pack in more powder for higher milligram content.
It's easier than ever for do-it-yourself formulas with Cap-M-Quik™ products.
The Complete Do-It-Yourself Capsule Filler
Item #F7B
---
Pack More Herbs & Powder In Your Capsules
Item #F7A
---
For more results, click here for Advanced Search