Search results for "Capsule Filler"
---
Capsule Filler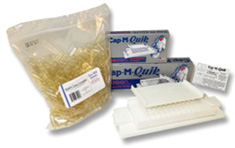 The Simple Way To Fill Capsules
We admit it — some herbs and supplements, as beneficial as they may be, aren't very pleasing to the taste buds. However, the cost of buying bottles of capsules versus cut leaves and powders can quickly add up. The Cap-M-Quik™ is our favorite DIY capsule filler for converting your favorite remedies to pill form. With this manual capsule filler, you can fill 50 empty capsules with the powder of your choice in less than 10 minutes. You'll be saved from bitter or unpleasant tastes with the added benefit of making your herbs and vitamins easy to bring while traveling.
Penn Herb Company, Ltd. proudly carries the Cap-M-Quik capsule filling kit for use with all our herb powders. The capsule machine is for size 00 capsules and comes with a tamping tool for packing down the contents so you can get as much powder in as you need to. The pill capsule tamper is also available for separate purchase. Find directions for how to fill capsules at our product page or on the package and you'll quickly get up to speed. Call our friendly customer service team to learn more about our herbal supplies.
The Complete Do-It-Yourself Capsule Filler
Item #F7B
---
Pack More Herbs & Powder In Your Capsules
Item #F7A
---
For more results, click here for Advanced Search