Search results for "Books-Health"
---
Books-Health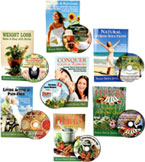 Your Health Questions Answered
Get up-to-date information from best-selling authors on a wide range of health topics and find satisfactory answers to all your questions. Consider just of our informative guides:
Healthy Healing: Updated step-by-step guide shows you how to use herbs, foods and supplements to personalize your natural health program
Susan Smith Natural Remedies Booklets: A series of easy-to-read booklets explains how to use herbs, healing spices and natural remedies for everything from colds, to allergies, arthritis, stress relief and more!
The Essential Oil Book: Herbalist Colleen Dodt shows you how to create dozens of essential oil blends for better mind and body health.
Explore our A-Z guide of health conditions and how to use natural remedies and self care tips
Practical Tips For Colds, Allergies & Immune Health
Item #9261G
---
Learn How To Detox For Improved Wellness & Longevity
Item #9261H
---
A Step-By-Step Guide To Healing With Herbs, Foods & Supplements
Item #9221T
---
Natural Alternative For Treating Drug-Resistant Bacteria
Item #9216A
---
Get Healthy Bones & Pain-Free Joints - Without Drugs!
Item #9261J
---
250 Simple Recipes & Gift-Giving Ideas for Year-Round Beauty
Item #9111E
---
The Best Remedies For Stress Relief, Better Sleep & Vibrant Energy
Item #9261K
---
175 Homemade Herbal Formulas For Glowing Skin & A Vibrant Self
Item #9142Q
---
America's #1 Guide To Natural Health - Totally Revised & Updated
Item #9618P
---
Get ALL of Dr. Susan's Natural Remedy Booklets!
Item #9261N
---
"An Aromatherapy Book That Is Such A Pleasure To Read…"
Item #9142M
Please check back with us soon.
---
Joy: The Missing Link To Lasting Health
Item #9261F
---
For more results, click here for Advanced Search