Search results for "Bath and Body"
---
Bath and Body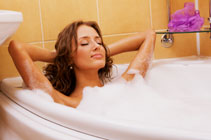 Relax, Refresh & Rejuvenate Skin With Natural Soaps & Skin Care Remedies
Soak away the stresses and tensions of the day and pamper you skin with nature's soothing botanicals, skin nutrients and plant oils.
Feel good all over with these popular skin care and bath products:
Epsom Salt …The restorative mineral solution smooths, softens & soothes.
Lavender …Use the pure essential oil or whole flowers to soothe your senses
Olbas Bath …refresh your senses, soothe aches & pains, open your sinuses – all with Olbas therapeutic bath!
---
---
---
---
---
---
---
---
---
---
---
---
---
---
---
---
---
---
---
---
---
---
---
---
---
---
---
---
---
---
---
---
---
---
---
---
---
---
---
---
---
---
---
For more results, click here for Advanced Search