Penn Herb Company Catalog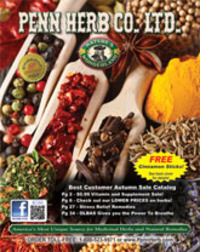 We are sorry, the printed version of our catalog is out of print.

We have found that most customers prefer this "online catalog" to paper catalogs. Many customers have requested that we stop sending them printed catalogs in the mail. Paper catalogs are often discarded, quickly go out-of-date, and they contribute to excess waste and pollution of the earth and its resources.

Usually by browsing our website, reading the category listings, and using the search features, you can easily locate everything you need. All of our herbs and remedies are listed here and are available 24 hours a day.
If you need more assistance, click here to contact us.