Search results for "Probiotics"
---
Probiotics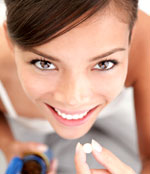 How to Use Probiotics for Better Health
Probiotics are good bacteria found primarily in our intestines and colon. These friendly microorganisms promote intestinal health, immune function, healthy skin, and more. However, antibiotics, stress and processed foods can create an imbalance of probiotics in our body, resulting in discomfort and other issues.
We offer several probiotic blends with the most researched strains for improved well-being:
Adult Probiotic…Adult specific probiotic blend support intestinal health especially for ages 16-55.
Probiotic 35 Billion…Potent 8-strain blend promotes immune system and gastrointestinal health.
Probiotic 100 Billion…Ultra high potency 12-strain blend for immune and gastrointestinal health.
Women's Probiotic 15 Billion …Specialized blend targets urinary tract and vaginal health.
Get Guidelines On How To Pick The Best Probiotics
12-Strain Blend for Gastrointestinal & Immune Health
Item #V6541
---
9-Strain Blend for Gastrointestinal & Immune Health
Item #V6441
---
8-Strain Blend for Intestinal & Immune Support
Item #V6561
$23.95
SRP

$21.99

Save $-1.96
---
Probiotics Support for Urinary Tract & Vaginal Health
Item #V6391
---
2-Part Cleanse & Detox Formula
Item #A98
---
Get Vegetarian Digestion Support With 8-Strain Probiotics Blend
Item #BPB02
---
Get Digestion Support With 8-Strain Probiotics Blend
Item #BPB01
---
Get Digestion Support With 8-Strain Probiotics Blend
Item #B29J
---
Get Vegetarian Digestion Support With 8-Strain Probiotics Blend
Item #BPB03
---
For more results, click here for Advanced Search