Search results for "Hair Damaged"
---
Hair Damaged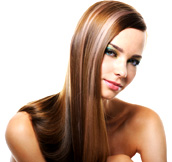 Natural Remedies to Repair Damaged Hair
Nourish dry, dull, damaged hair back to life with moisturizing oils, fatty acids, and hair-strengthening nutrients. Achieve lustrous, healthy-looking hair now!
2Chic Avocado & Olive Oil Shampoo and Conditioner …Intense nourishing formulas cleanse, moisturize and re-energize lifeless, damaged hair. New!
Black Castor Oil …Unrefined Castor oil repairs breakage, split ends and brittle hair. New!
Silica Complex …Get noticeable results for dry, brittle hair with Silica, Horsetail and other hair strengthening nutrients.

Get The Tropical Oil For Soft Skin & Shiny Hair
Item #564B-8
$5.95
SRP

$8.95

Save $3.00
---

Daily Leave-In Conditioning for Dry, Damaged Hair
Item #A90B
---

Deep Conditioning Oil for Hair & Skin
Item #ANUT17
---

Leave On Conditioner Repairs Damaged Hair
Item #A49F
---
For more results, click here for Advanced Search