Search results for "Ginseng Products"
---
Ginseng Products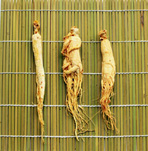 Boost Performance, Energy and Vitality with Ginseng
No doubt about it, Ginseng is the 5,000 year-old herbal tonic for our fast-paced 21st century lifestyle! The rejuvenating root lifts energy, prevents burn-out, boosts mental performance and helps our body perform under stress.
Boost vitality with these high performance Ginseng remedies:
American Ginseng: "Cooling" Ginseng most recommended for energy, improved athletic performance, and healthy sugar balance.
Chinese Red Ginseng Liquid Extract: Warming, stimulating root for increased vigor, energy, and environmental stresses.
Eleuthero: A "neutralizing" root that provides gentle, long-term energy and stress support.
Korean Standardized Extract: Caffeine-free tonic with extra-strength active Ginseng compounds.
Get the energy you need for your active life. Discover the best Ginseng for your personality.
---
---
---
---
---
---
---
---
---
---
---
---
---
---
---
---
---
---
---
---
---
---
For more results, click here for Advanced Search