Coffee Substitutes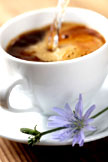 Great-Tasting, Robust Coffee Substitutes
Whether you're reducing your caffeine intake for health or other personal reasons, the fact is there are tasty AND robust alternatives available. Hint: If you're trying to reduce your coffee intake, add brewed coffee substitute to regular coffee to slowly kick the habit. Use an espresso maker for brewed coffee substitutes with a deeper, richer flavor.
Consider these rejuvenating, full-bodied options:
Chicory Root, Roasted…Delivers a robust, earthy, coffee-like flavor with a malty aroma. No wonder it's a New Orleans tradition!

Dandelion Root, Roasted…For those who prefer an "espresso", dark brew with a strong flavor.

Dandy Blend…An instant, energizing blend of roots and grain with a healthy perk.

Teeccino Herbal Coffees…Satisfying blend of Roasted Chicory, Barley, and Carob combined with Vanilla, Buttery Hazelnut and other natural flavors!
Kick back and enjoy these caffeine-free, robust coffee alternatives.
---
---
---
---
---
---
---
---
---
---
---
---
---
---
---
---
---
For more results, click here for Advanced Search