Teas - Specialty Blends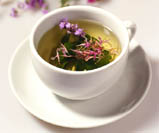 Escape The Ordinary With Specialty Tea Blends
Our selection of specialty teas give you the perfect opportunity for a tea break and a chance to escape the ordinary. They're blended with soothing herbs, sweet fruits and aromatic spices for a truly delightful taste sensation.
Indulge in some of our specialty beverage teas:
Eastern Chai …Wake up with this energizing blend of black tea and the sweetly exotic flavors of cardamom, cinnamon & cloves.
Island Jahva …If you prefer a robust, caffeine-free alternative, then this mellow chocolaty brew of Roasted Dandelion & Chicory is just for you!
Tropical Fruit Fusion …Get transported to a warm tropical day with our fruit-infused, Red tea blend.
Smooth out the rough edges of your day - one cup at a time!
Kick Back With This Mellow Caffeine-Free Blend
Item #219AC4
---
Escape The Ordinary With Exotic Spiced Chai
Item #148C4
---
African Red Bush With Orange & Cranberry Flavors
Item #CHT72
---
Fruity Black Tea With Black Currant Flavors
Item #CHT76
---
Light Green Tea Blend With Coconut & Spices
Item #CHT82
---
Invigorating Hot, Sweet Tea Blend
Item #CHT74
---
For more results, click here for Advanced Search