Search results for "Skin Acne"
---
Skin Acne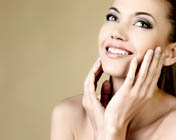 Natural Remedies For Clear, Blemish-Free Skin
Herbs and natural remedies offer a proactive approach to a blemish-free complexion. A diet high in fresh fruits and vegetables and low on fatty, sugary foods can also maximize the nutritional support of any natural remedy you choose.
Promote clear, healthy-looking skin with nature's beauty secrets:
Acne Creme …Non-drying, anti-bacterial skin cream heals and clears blemishes.
Black Soap …Traditional African recipe deep cleans and resolves troubled skin.
Burdock …the herbalist's choice for clear skin because it helps balance hormones and promote healthy liver function – factors for healthy complexion.
Neem …Neem preparations have been used for thousands of years to soothe troubled, blemished skin.
Look your best with nature's beauty secrets for clear, radiant, blemish-free skin!

A Sweet, Skin Care "Scents-ation"
Item #523A-30
---

Detoxifying Cream Firms, Tones & Soothes
Item #ARE05
$19.99
SRP

$24.95

Save $4.96
---

Antibacterial Facial Scrub For Smooth, Clear Skin
Item #A77G
---

Antibacterial Cream Fights Acne & Blemishes
Item #A76A
---

Wash Away Dirt, Oil and Bacteria
Item #AAF01
---

Traditional African Black Soap for Glowing Skin
Item #A1B
---

Essential Oil Blend For Skin Blemishes
Item #A59T
---

Homeopathic Medicine For Boils & Acne
Item #ABO08
---

Eliminate Old Scars, New Scars & Keloids
Item #A33G
$23.49
SRP

$25.95

Save $2.46
---

Antiseptic Skin Care Oil The Earth Conscious Shopper
Item #A59R
---

Multipurpose Skin Care Oil
Item #A59H
---

Sulfur Soap Helps Eliminate Breakouts
Item #A28G
---

Ultra-Moisturizng Blemished Skin Soap With Bright, Tart Scent
Item #AIW06
---
For more results, click here for Advanced Search