Search results for "Sale99"
---
Sale99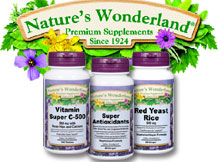 99˘ Vitamins and Supplements Sale
Get more for your money with our exclusive bulk discount supplement sale! They're an unbeatable value for large office orders or if you just simply want to stock up on today's popular natural remedies.

And best of all, Nature's Wonderland premium supplements are backed by our Quality Assurance Guarantee, which means they're made from the finest ingredients available, providing you with the best nutritional value, and are laboratory tested to meet our strict quality control standards for potency and purity.
Extraordinary Antioxidant & Blood Vessel Support
Buy One, Get One 99˘
Item #PV35AP
2 @ $5.47 each
$10.94
SRP

$19.90

Save $8.96
---
Restore Passion, Pleasure and Performance
Buy One, Get One 99˘
Item #PS34XP
2 @ $7.62 each
$15.24
SRP

$28.50

Save $13.26
---
Support Cholesterol Wellness
Buy One, Get One 99˘
Item #PV74P
2 @ $6.45 each
$12.90
SRP

$23.90

Save $11.00
---
The B Vitamin For Heart, Mind & Body
Buy One, Get One 99˘
Item #PV4P
2 @ $3.47 each
$6.94
SRP

$11.90

Save $4.96
---
For more results, click here for Advanced Search