Books-Supplements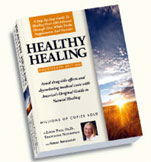 What Is The Best Supplement To Take?
How do you make sense of all the recent supplement headlines you see on TV and read about in the latest magazines? Donít be confused - get reliable information from recognized natural health professionals who are established in their respective fields. For example:
Healthy Healing: A step-by-step guide to healing with herbs, foods & supplements and natural supplements by Traditional Naturopath, Linda Page.
New Vitamin Bible: Pharmacist Earl Mindell offers trusted information on vitamins, minerals, amino acids, and the latest supplements; includes dosages & cautions.
The Powerful Disease-Fighting Fruit From Brazil
Item #9150M
---
Vital Cellular Nutrition For The New Millennium
Item #9233J
---
Lower Your Cholesterol With Red Yeast Rice
Item #9150A
---
The Amazing Root That Helps You Slim Down & Shape Up!
Item #9145B
---
Fight Cancer, Lower Cholesterol, Live Longer
Item #9218F
---
A Step-By-Step Guide To Healing With Herbs, Foods & Supplements
Item #9221T
---
How Maitake Mushrooms Help You Fight Disease And Live Longer
Item #9150E
---
Get The Latest Research On The Natural Clot-Buster
Item #9150F
Please check back with us soon.
---
America's #1 Vitamin Book - Now With More Helpful Information
Item #9618H
---
America's #1 Guide To Natural Health - Totally Revised & Updated
Item #9618P
---
For more results, click here for Advanced Search