2017 Spring Health Fair
Come out and join us for the 2nd annual Penn Herb Company Health Fair on April 28 & 29th. This year we have even more samples, prizes, give-a-ways and specials for you!
Learn about new and traditional natural remedies with hourly in-store demos and workshops from some of the biggest names in the industry, including Irwin Naturals, Essentia Water, Solgar, Nutraceuticals, Euro Pharma, Neocell, Boiron, and Nordic Naturals.
Meet our local health partners: Pat from Fruitwoods Orchards Honey will be here again with his live bees; Pearl from Pearls of Nature natural skin care, and Richard from Zia Candles.
Sample tasty treats from Good Pop, Glee Gum, Ciao Bella Gelato & Sorbetto, G.H. Cretors Popcorn, Teaonic Herbal Tea Tonics, and KIND Bars.
Win FREE Penn Herb Gift Cards and gift baskets from Grandpa Soap Co., Hyland's Homeopathic, Dr. Bronner Soaps, Zum Bar, Magic Mud Charcoal Toothpastes and more!
Save the date. Hope to see you here!
---
DETAILS:



---

COUPONS!



---

FREE!



---

FRIDAY April 28, 2017 Schedule
11am - 3pm Troyer Cheese - Troyer specializes in Amish cheeses, deli meats, and related foods, carrying on a rich tradition of quality products.
11am - 2pm Ciao Bella - Ice creams, ices and frozen yogurts. Natural ingredients, including imported Italian extracts and fresh fruits and nuts.
2pm - 6pm Olbas Herbal Remedies - Learn more about the essential oils in the Olbas Oil formula. Discover the historical uses and benefits of these oils used in Olbas Herbal Remedies.
12pm - 4pm Nutriceuticals - Our products emphasize all natural ingredients and we strive to use organic and non-GMO ingredients wherever possible.
12pm - 3pm Fruitwood Orchards Honey - Pat Ryan and his live bees from Fruitwood Orchards Honey.
12pm - 3pm Solgar Vitamins - Solgar is dedicated to providing consumers with quality, innovative, science-based supplements
12:30pm - 3:30pm Plant Fusion - PlantFusion is designed to be a simple, delicious tool to help you achieve your health and fitness goals. The protein in PlantFusion is perfect for muscle energy, managing appetite, and overall recovery from exercise and daily stress.
1pm - 4pm KeHe - Displaying Natural, Organic and Specialty Foods
1pm - 3pm KIND Snacks - KIND makes wholesome, delicious snacks with ingredients you will recognize - like whole nuts and wholes grains - along with a variety of fruits and spices.

Schedule and events subject to change.
---
SATURDAY April 29, 2017 Schedule
10am - 2pm Neocell - Each NeoCell product is designed specifically to support the Collagen systems in our bodies such as those that maintain vibrant youth, radiant beauty, and total body wellness.
11am - 2pm Mitchell's Medicinals - CBD Healing Products will talk about all things natural and hemp!
11am - 2pm Zia Candles - So many beautiful candles with natural floral, herbal and spice scents to choose from! Come on out and pick out the perfect candle!
12pm - 4pm Olbas Herbal Remedies - Learn more about the essential oils in the Olbas Oil formula. Discover the historical uses and benefits of these oils used in Olbas Herbal Remedies.
12pm - 4pm Europharma - Stop Pain Now! Clinically-studied BCM-95 curcumin and BosPure boswellia
12pm - 4pm Irwin Naturals - Liquid soft-gel vitamins that offer superior advantages over hard-to-digest tablets and capsules
12pm - 3pm Jack's Farm - JACK'S FARM Certifed Organic vegetables and small fruit. Find out about their CSA program! Delivered to Penn Herb weekly.
12pm - 3pm Nordic Naturals - Committed to delivering the world's safest, most effective nutrients essential to health. Their award-winning omega-3 fish oil and other foundational nutrients are research supported, expertly formulated, rigorously tested, proven effective and, best of all, great tasting.
12pm - 2pm Nature's Wonderland Herbal Extracts - Nature's Wonderland liquid herbal extracts offers a complete selection of Single Herb Extracts plus a complimentary line of Liquid Herbal Formulas, which target various specific health needs.
12:30pm - 3:30pm Sun Chlorella - Single-cell green alga, chlorella is Nature's Perfect Superfood, filled with dense nutrients that help keep you thriving and feeling strong.
2pm - 5pm Essentia Alkaline Water - Essentia ionized alkaline water was tested in a hydration study, the first of its kind for a bottled water. It has been scientifically shown to rehydrate better.
2pm - 5pm Pearls of Nature - Pearls of Nature skincare is a line of handcrafted natural skincare products that were created out of our love for the gifts that nature has given us.
2pm - 5pm Teaonic Teas - Herbal tea supplements that are brewed infusions of nature's delicious and wholesome herbs, roots, leaves, barks, fruits, flowers, and spices, all of which have unique and beneficial properties.
Schedule and events subject to change.
---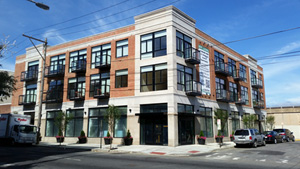 At the NEW Flagship Store:
The NEW FLAGSHIP STORE features a GREAT selection of herbs, vitamins and natural remedies. You'll also find healthy foods; fresh, refrigerated and frozen. All the Best you can find from Nature's Wonderland.
Go to the Penn Herb Facebook Page for more pictures - and please Like Us when you get there!
Flagship Store Location:
Penn Herb Company, Ltd.
601 North Second Street
Philadelphia, PA 19123
Store Hours
10:00 am - 6:30 pm Tuesday, Wednesday, Thursday and Saturday
10:00 am - 8:00 pm Monday & Friday
Closed Sunday, and Major Holidays
Customer Service:
(215) 632-6100
Watch the Video!