Spices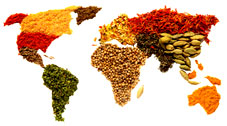 Premium Quality Spices from Around the World
Explore the world of spices and discover the exotic aromas and tantalizing tastes of far away cultures. Researchers have discovered that spices are not only tasty, but healthy too! The medicinal value of Turmeric, Cayenne, Cinnamon, Garlic, and Ginger are now well known and widely accepted. Stock up on you favorite fresh spices and create a culinary masterpiece your friends and family will love.
Why get your spices from Penn Herb Company instead of the supermarket?
Price…You get premium quality spices at a reasonable price.

Quality…Each spice is hand-selected, packaged in a convenient shaker-top bottle and sealed for freshness.

Selection…Find a wide variety of common and not-so-common spices for today's popular recipes.
Click HERE for The TOP 10 Spices
---
---
---
---
---
---
---
---
---
---
---
---
---
---
---
---
---
---
---
---
---
---
---
---
---
---
---
---
---
---
---
---
---
---
---
---
---
---
---
---
---
---
---
---
---
---
---
---
---
---
For more results, click here for Advanced Search